Courses on rises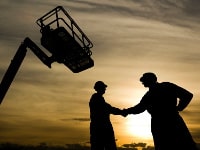 In the Center for Staff Training ERGON, we offer professional courses on scissor, self-propelled and other rises. Our purpose is to train every worker professionally to obtain key qualifications on rises according to UDT (the Office of Technical Inspection) regulations. Thanks to us, workers know the principles of operation and the machine service- trainings comprehensively encompass the subject matter and thanks to being run by experts in this field, they are a good investment both for the worker and the employer. We put all efforts to ensure the lowest prices for our courses on rises. For larger groups, we have prepared additional discounts!
Every course on rises is divided into theoretical and practical part in our center. It comprehensively encompasses the subject matter and allows us to prepare workers to take UDT (the Office of Technical Inspection) exam and passing it. During the training on rises, its participants obtain information on the principles of the machine, safe operation according to the regulations of the Office of Technical Inspection as well as EHS rules in the range of working at altitude and information about the construction and rules of operating those machines. We also run practical classes which allow our participants to obtain necessary skills in the range of machine operation. Courses organized in our center are the best choice.
Use
Rises which are defined as aerial platforms are mobile platforms. They are designed for rising people, equipment and materials to do appointed works, for example in building, advertising and service industry. These machines are used at building, assembling, installation, decorating, cleaning works ad many others during which it is necessary to get at certain altitude but setting scaffolding would not be an economic solution.
Rises can be used both outside and inside also in places with high ceilings. That's why they are comprehensive machines. Rises can be self-propelled mounted on trucks or low-speed which include scissor, telescopic or hinged rises. Essential qualifications for operating them are called I P.
The purpose of the training
Our training is designed for people who are over 18 and have at least elementary education. It is also necessary to hand in the doctor's certificate stating there are no contraindications to do the operator's job.
The purpose of the training is giving theoretical and practical information which is to teach the participant the appropriate machine operation and acquiring skills needed to achieve UDT (the Office of Technical Inspection) qualifications. The worker who has suitable qualifications can take part in works where rises are used.
Getting qualifications on rises is easy with the Center for Staff Training ERGON. We cordially invite you to use our services.