Telescopic loaders course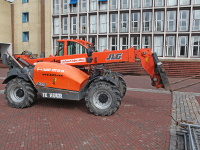 We invite you for the telescopic loader course to the Centre for Staff Training ERGON!
Choosing our loader courses, you will be certain of professional training from professional instructors so that receiving UDT (the Office of Technical Inspection) qualifications becomes easier. At the same time, the price of our classes should interest you- all courses in ODK ( the Centre for Staff Training) ERGON stand out with attractive, affordable fees.
The usage
The telescopic loader is a specialised forklift , a loader with a changeable extension arm which is commonly used on worksites and in other places where it is essential to do transport work in a fast and efficient way. Trucks are used while working as part of building roads, bridges, flyovers, steel constructions.
The purpose of the training
Telescopic loaders course was laid down especially for those people who want to obtain necessary qualifications to work on the position of a forklift truck with a telescopic extension arm in category I WJO (specialised truck).
Our training will help you to learn how to operate the machines of such producers as: Manitou, Merlo, New Holland, Dieci, JCB and Case and others which are commonly used in work places.
Loader courses run by us consist of theoretical and practical part which extensively prepare the participant to work as the machine operator and to use the equipment.
Telescopic loaders course ( loaders with a changeable extension arm) finishes with the national exam taken in front of the board of the Office of Technical Inspection. After passing the exam, participants receive appropriate qualifications and the operator's card. They are permanently valid in Poland and EU countries.
The course timetable
Telescopic loader course involves all important information and skills necessary on the position of the machine operator. Classes are based on the programme agreed on with UDT (the Office of Technical Inspection) and consist of theoretical and practical part. They are mainly:
types of forklift trucks and their construction
basic information on cargo management
the technical supervision of the machine
using additional equipment of the truck
necessary activities while operating the machine before, during and after finishing the job
classes on the construction and exploitation connected with the construction and exploitation of gas bottles
EHS information
practical informatiom on telescopic truck
In our centre, we put the emphasis on interesting classes for participants and so they are given a wide range of necessary knowledge and skills needed in everyday work. We employ experienced instructors and we have modern educational supply network which makes learning a good investment for broadening one's skills.
The entrance conditions
To get on the course on telescopic loaders, you must fulfil the following requirements:
have at least elementary education
be over 18 years old
do not have contraindictions to do the job of the machine operator
The price of classes is dependent on the number of enrolled people. In case of bigger groups, we provide attractive discounts. In order to receive more information about the prices, we encourage you to contact our company so that we can present the detailed pricelist of our services.
Classes are run in our headquarters which is situated in Warsaw as well as in other local centres. We are also able to organise classes at customer's location. We could also match thematic range of classes especially to your requirements.
As a company with longstanding experience in the training field, we know what our customers need. Therefore, we give you the access to modern education in attractive prices. We are able to suit the offer individually to you also as far as the place and time are concerned in closed groups. In case of questions, we will try to answer them as soon as possible.
We encourage you to enroll on the telescopic loader course to the Centre for Staff Training ERGON!