The safety procedures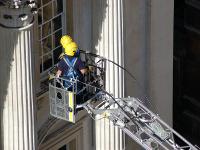 Every course on the aerial platform, the scissor lift or other type of equipment includes safety issues and proceedings in case of life threat or the operator's health and other users of the equipment. Step by step, we present the procedure which should be performed when the mobile platform or other type of equipment will make it impossible for the operator to get out smoothly and even to communicate.
In such cases, the first activity is to immediately call certain services. Meanwhile, you should take some rescue activities which include the following activities:
if the operator of the device cannot take control over the situation, then people standing on the platform, but only those having appropriate knowledge and the owner's authorization, can use the control panel.
if the above situation is not possibile, then a person who is at the level of the ground can leave the platform, but only when they are familiarized with the emergency procedure of leaving the platform and they are authorised by the worker and know all other safety procedures.
Before leaving platforms such as mobile self-propelled platforms, mobile mast platforms, mobile hanging platforms or towed mobile platforms and other types, it is essential to check the ground which they are situated on in order to get rid of obstacles.
It is best to operate the machine from the ground because it lets to operate it precisely but also you can use the level of the platform depending on the certain situation. Keys to the machine should be kept by people responsible for rescue activities when the defect or an accident occurs.
The accurate training of workers in the range of operating mobile platforms is the key element for safe work and if workers do not have appropriate knowledge, then the risk of accidents is much higher. If you are going to use mobile platforms at work, then the course in our centre will be the best choice. We invite you to become acquainted with our offer and use it.