Aerial platforms, scissor lifts and others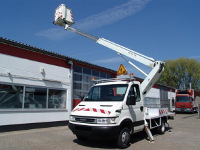 The Centre for Staff Training ERGON cordially invites you for trainings on aerial platforms and scissor lifts and others. The purpose of the training is obtaining essential UDT ( the Office of Technical Inspection) qualifications without which you cannot operate machines. Building, assembling or decorating works require using machines such as scissor lifts or aerial platforms- therefore, trainings are essential to make all activities safe and according to regulations. Qualifications will be even easier to obtain with us! In our centre, we have been running courses on aerial lifts and scissor lifts for years. We have trained thousands of workers who have passed UDT ( the Office of Technical Inspection) exams without problems and gained necessary qualifications. We employ only qualified lecturers and instructors who know regulations and theory in detail. They know how platforms work- because of that, courses organized by us are always full of valuable information which is useful in later everyday works. Every course is divided into theoretical and practical part. Theoretical part brings up the issue of regulations on technical inspection, information about lifts including platforms, their construction and operation as well as EHS procedures. As a matter of fact, we comprehensively prepare for taking UDT ( the Office of Technical Inspection) exam according to current regulations.
The use of platforms
Platfroms are a group of machines which are designed to do jobs at high altitude. According to grading, mobile platformsalso include hoists and this is the reason why qualifications are essential for their operation in accordance with law regulations. Aerial platforms are most popular ones among them. Thanks to them, you can raise people, materials or equipment at certain altitude to do building, finishing, assembling, decorating, cleaning and other types of works.
Machines can be placed on wheels or trucks- they are called mobile or low-speed platforms. Because of its construction, machines are divided into hinged and brachial as well as scissor and telescopic. Obtaining UDT ( the Office of Technical Inspection) I P qualifications are needed to operate them.
The purpose of the training
Trainings are designed for those people who are over 18, have completed at least elementary school and have the doctor's certificate authorizing them to work on the position of the machine operator.
Our trainings on platforms give you essential theoretical and practical knowledge about the machine operation in accordance with EHS regulations and the rules of technical inspection. After having completed the training, the participant can take UDT ( the Office of Technical Inspection) exam whose purpose is obtaining suitable qualifications.
We offer courses on hoists in competitive prices and with the possibility to get discounts for larger groups. We can also organize the course in any place according to the principal's wish. Thanks to that, our classes are always planned in detail and rich in theory and practice. Obtaining qualifications after completing such a course is even easier.
We cordially invite you to use services of the Centre for Staff Training ERGON!