Trainings
PSample devices which we organize courses and exams for.
Low-speed mobile elevated work platforms
i.e. aerial platforms, telescopic articulated vehicle- cat. IP
UDT Ergon Training
In the Office for Staff Training ERGON, we realize professional UDT (the Office of Technical Inspection) trainings giving UDT qualifications. Our UDT courses are designed for customers searching for thorough assistance in upgrading their and their employees' qualifications on job positions for which UDT courses are necessary. We constantly cooperate with UDT- trainings are run all the time according to the latest requirements.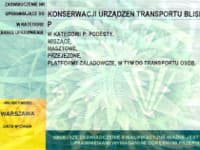 We offer UDT courses for affordable prices depending on the number of participants. All classes are conducted by qualified specialists using modern training background and we emphasize both theory and practice. Thanks to this, UDT training conducted by the Centre for Staff Training outstand the best efficiency and they are often recommended. We run UDT trainings both open and close. We can also adjust the offer to the company's profile.
In our offer, you can find the following qualifications of the Office of Technical Inspection:
gantries controlled from the ground and the working floor
winches controlled from the cabin and the working floor
freight and building cranes with service
tower, rail and mobile jib cranes (HDS)
forklifts including lift trucks and specialized trucks i.e. telescopic loaders with the changeable extension arm
and the course for mobile elevated platforms
What is more, we also have ADR course in the offer and the course for a car diagnostician, TDT qualifications and UNO operation.
Additionally, we offer forklift courses and rigger qualifications. In our centre, the forklift course is run with UDT (the Office of Technical Inspection) qualifications and without them.
We invite you to enroll on the course to the Centre for Staff Training ERGON!