Gantry course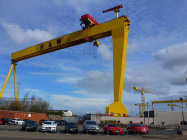 We invite you for the gantry course to the Centre of Staff Training ERGON. As the centre with longstanding experience, we ensure professional assistance to every our customer- our classes are designed for individual participants as well as for groups of workers pitched by the employer. We take care of the quality of training in ERGON so that it is always on the highest level. If you want to operate gantries, the course in our centre will be a very good investment for the future. Thanks to it, finding a job on the position of the operator will be much easier in Poland and Europe.
The description of equipment and its use
Nowadays, gantries, which belong to hoisting equipment, are used in many different workplaces, including ship-building industry, transshipment points, warehouses, stockpiles, production and industrial halls. Different methods of constructing machines cause that they can be individually fitted to certain works. In each case, gantry qualifications are needed and they are endued by the Office of Technical Inspection.
The following variants are among most often used machines in work places:
ndustrial or bridge truck- they are mainny fitted in halls and equipped with the hoist to hang loads which are on platforms. Bridge or truck models are mounted below the ceiling in the hall.
hanging- similar to truck ones in construction, but they use trucks hung below the ceiling
gate- mainly used in outdoor works, constructed with platforms placed on side bridges connecting gates
In our centre, we run gantry courses which let you operate all types of machines. During classes, participants get wide knowledge concerning specific types of machines. Below, there are types of trainings presented. They differ with requirements to start the training.
Qualifications for gantry operation are divided into two categories:
I S – include gantries and winches in category I W, which are controlled from the working floor or from the operator's cockpit, machines in category II S
II S – include machines controlled from the working floor, winches and hoists in category II W as well as floor static cranes
The offer
The price of the gantry course in our centre is always encouraging. It is determined individually depending on the number of course participants and we are also open to negotiations. We invite you for classes in our headquarters in Warsaw and branches in the country- in Katowice, Cracow, Bielsko- Biala. We can also travel to your place all over Poland. We are able to organize gantry courses with the programme specially fitted to participants' needs and the principal.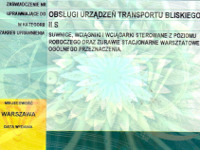 Course topics
Każdy kurs na suwnice w Ośrodku Doskonalenia Kadr ERGON jest przygotowany pod kątem merytorycznym przez profesjonalnych instruktorów oraz konsultowany ze specjalistami z Urzędu Dozoru Technicznego. Dbamy o jakość kształcenia, dlatego zajęcia prowadzone przez nas wyróżniają się zawsze kompleksowym ujęciem tematu oraz przy tym także są przystępne dla uczestników, dlatego dają optymalne efekty, przydając się nie tylko podczas zdawanie egzaminu na uprawnienia na suwnice, ale dodatkowo również w codziennej pracy każdego operatora urządzenia tego rodzaju.
Below there is the general subject matter of trainings run by us:
Information concerning technical inspection for a certain category I S or IIS Information about certain machines- their construction and exploitation at the work place
Operator's duties before starting the task
Operator's duties while doing the job
Operator's duties after finishing the job with the machine
EHS rules in the work place
zasady bezpieczeństwa i higieny pracy na stanowisku
Practical classes- exercises on machines I S or II S depending on the chosen category
The gantry course available in ODK (the Centre for Staff Training) ERGON is the course which completely prepares participants to take the exam in the Office of Technical Inspection to obtain a certificate and makes it possible to work on the gantry position. Choosing our offer, you can be sure that information obtained during classes will be useful during the exam and will help you to get a positive grade. We have one of the highest coefficients in passing the exam. Therefore, the gantry exam can be passed without problems and suitable qualifications can be obtained the first time round.
Gantry course – the price
The price for classes is dependent on the number of participants. It is individually determined with the principal. Bigger groups can get attractive discounts. Please contact us to get the exact price of the service.
To take part in the course, you must meet the following requirements:
Be over 18
Bring the doctor's specialised in occupational medicine statement concerning the condition of health making it possible to work on the position of the operator
Completed elementary school for gantry qualifications II S and completed vocational school (technical profile) for I S
The legal right for the training
The regulation of Economy Minister on 18.07.2001 concerning qualifications required while operating and maintaining technical machines (Dz. U. no 79 item 849).
Thanks to choosing our offer, you can obtain suitable gantry qualifications for different types of machines. Our experience and complex educational solutions, competent staff and constant improvement cause our centre to be successful among course participants all over Poland. If you have any questions concerning our offer, we are always waiting for you- please contact us in order to discuss the details of the service implementation including the price and suitable time.
We invite you cordially on our gantry courses to the Centre for Staff Training ERGON!
More information: