The safety of forklift operation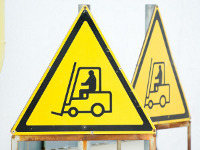 The main purpose, which is incorporated into the forklift course, is the knowledge of the appropriate machine operation on the position of an operator. Despite information about the vehicle operation, its operation and load operation, everybody gets information about the safety and industrial safety at work. If the work on the position also involves forklifts, the course is essential.
Forklifts, so as to be authorized, must fulfill certain technical requirements. Technical parameters of the machine must be found on the rating plate which should be placed on every vehicle. Additionally, necessary information include the hoisting capacity chart which informs about the height of raising the load or the way of placing the load on forks.
Apart from that, to operate the machine, forklift qualifications are necessary. Certificates are delivered by UDT (the Office of Technical Inspection) Warsaw. What is more, apart from them, it is necessary to conduct psychotechnical examinations and hand in the doctor's certificate of being permitted to do the job on that position.
Forbidden activities while using a forklift:
operating under the influence of dopes or alcohol as well as other indispositions
using the vehicle according to its purpose
machine overload
sudden accelerating and braking and driving exceeding the speed limit
carrying people on forks
driving down slanted grounds on neutral gear or with switched off drive
leaving the vehicle with the engine on
driving the vehicle incompatibly to the safety rules
bestriding nipples and slopes which are different than allowed in technical data
going under or standing under raised forks
leaving loads on raised forks
moving the mast while turning the vehicle
doing machine alterations on your own
disposing of safety covers
hitting a vehicle in other objects
driving a vehicle on non-adjusted ground
smoking and using open fire
operating with slick shoes and hands
operating without having forklift qualifications