Dos and don'ts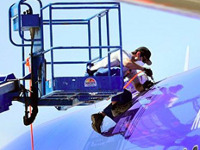 Most important Dos and don'ts while working on mobile platforms
Workers wanting to obtain UDT (the Office of Technical Inspection) qualifications for mobile platforms of various types, gain complex theoretical background which also include safety rules.
Before the machine is used: 
you must fulfill all everyday activities examining the machine
you mustn't use damaged or incomplete devices
you mustn't use devices which are not adjusted to every ground
Before moving the machine:
you must exactly check the ground according to its damages and obstacles
you must check the direction of moving the machine
Moving the machine:
you must constantly check the space in front of and over the machine in the direction of moving it
you must move the platform at certain speed
you must operate the machine to avoid pop-up obstacles
you mustn't lean over the barriers of the machine
you mustn't place objects on the control panel
you mustn't lean back on the control panel
you mustn't use mobile phones
Placing the machine in the appropriate position:
you must set the height of the machine on the appropriate level
you must mind all pop-up obstacles, also on the ceiling
you must check the ground considering its damages and level
Using the machine:
mobile platforms should not be used by people without training
the operator should be familiar with the certain type of the machine
the operator should be familiar with the risk of using the machine and the rules of work
Rescue:
you shouldn't use the machine in case you are not sure the rescue procedures and there are no person around who could be familiar with them
Additionally, the course on mobile platforms includes other issues connected with safety rules while using the machine. As an operator, you should know all of presented rules for mobile platforms, mobile trucks, low-speed ones and others depending on its type and obtained qualifications.
Choosing our course on mobile platforms, you will gain complex service including theoretical and practical training which will let you safely operate the machine.