Courses on gantries- get qualifications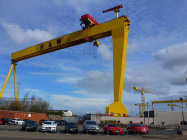 You need qualifications to operate gantries, i.e. lifts, which are commonly used in transport and other branches of industry. After completing the course and passing the exam, the course participant will get qualifications for gantries in accordance with regulations of the Office of Technical Inspection which the machine has to undergo.
Basic information
Gantries are machines qualified as lifts which work in interrupted movement. They are equipped with lowering and raising mechanisms- hoists or hoisting cranes. Gantries are designed to move objects vertically and horizontally. The area of machine operation is limited by the height of bringing down and raising loads, the length of the track and the width of the bridge. Machines can be controlled wiredly or wireless. Bigger models are controlled by an operator sitting in the cabin.
The construction of machines
bridge gantries (industrial)- are mainly installed in industrial halls. They are equipped with the hoist which moves along the bridge. Bridge models are installed in an upper part of the hall and consist of grate bridge which moves on tracks
suspension gantries- are similar in construction to industrial models which move along tracks suspended to the hall ceiling construction. They are also good in interior areas where the maximum available surface should be used.
gate gantries- is a model often used outside, for example on stockpiles or shipbuilding ramps. Machines are built on bridges suspended on side bridges binding gates. Gates have track and wheeled chassis.
Use
As it was mentioned before, machines are used in transport, for example in industrial halls, shipyards, shipment handling units or stockpiles. Thanks to their construction, they make it possible to move different types of loads quickly and safely depending on used grabbing elements.
Qualifications
For the operation of gantries which are controlled from the cabin, you need gantry qualifications. They are obtained after completing the course and passing the state exam in front of the board of the Office of Technical Inspection. Obtained qualifications are for and indefinite period and authorize you to operate machines stated on the type of qualifications.
Categories of qualifications
II S – qualifications to operate machines controlled from the working level, as well as hoists and hoist winches in category II W and workbench static cranes
I S – qualifications for operating machines controlled from the cabin as well as hoists and hoist winches in accordance with cat I W or machines of II S category
Gantries are machines used commonly on different worksites. You need to have an appropriate course and qualifications to operate them correctly. During classes, participants get most important information connected with the machine operation including information on health and safety at work before starting the job, during performing it and after finishing it so that all loads are transported correctly.
Depending on the type of gantries, the operator should have adequate qualifications. Without them , they expose themselves and others at dangers. The employer's task is to ensure their employees have undergone the appropriate training and adjust the work conditions according to EHS regulations.