Scissor platforms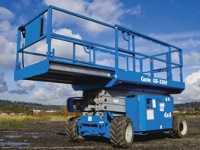 The Centre for Staff Training ERGON invite you for scissor platforms courses. Thanks to our courses, you can gain key UDT ( the Office of Technical Inspection) qualifications and standards defined by the Office of Technical Inspection. Scissor platforms are very often used on building sites and while doing assembly works; therefore, courses are a great investment both for a worker and an employer. For the machine operation, it is a must to complete the course and obtain UDT ( the Office of Technical Inspection) qualifications.
Our courses on scissor platforms involve a wide range of theoretical information which present most important data on scissor platform construction and other mobile platforms, their operation, maintenance, EHS regulations and regulations of the technical inspection. Our training includes practical classes during which participants get to know machines and are taught how to operate them appropriately according to procedures. In our centre, we employ only specialists and we guarantee the highest quality of education so that getting UDT qualifications later would not be of any problem.
Use
Scissor platforms or scissor hoists are machines which fall into the category of mobile platforms. These are low-speed platforms which are designed to raise people, equipment and materials at certain altitude. To operate them, the worker must have qualifications of the Office of Technical Inspection.
Nowadays, scissor lifts are used in many types of works- trainings are necessary to operate them professionally and with safety rules. Scissor platforms are often used on building sites, finishing works, installation, decorating and cleaning works. Apart from building industry, machines are used in advertising industry. The worker who has not got qualifications cannot take part in works according to law regulations.
The purpose of training
People who are over 18, have at least elementary education and the doctor's certificate confirming there are no contraindications to work on the position of the mobile platform operator can take part in the training.
After completing the course, the participant can take UDT ( the Office of Technical Inspection) exam. After passing it, you will get an adequate document confirming the knowledge and skills for the scissor platforms operation. These are machines which underlie technical inspection. Therefore, before using scissor platforms, all appointed workers must obtain qualifications.
In the Centre for Staff Training ERGON we have trained thousands of workers. Therefore, we guarantee the best quality service based on our experience and professionalism. We can do trainings in any place and time set by the principal. For larger groups, we offer attractive discounts.
We cordially invite you to use our training offer!